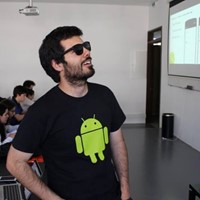 BIO
Android team lead at WIT Software, he can easily be spotted there working on the company RCS solution. An enthusiastic for new technology and always trying to reach those last 20% of all of his side projects that seem to be really far away, he loves to share his knowledge with others either by giving talks, teaching, writing or along with a cold beer in the nearest pub. GDG Coimbra organizer and Kotlin evangelist, he also has a huge passion for travel, photography, space and the occasional run.
The Hitchhikers Guide Through Kotlin Multiplatform
Tue 24 Sept | 10:30 AM – 11:30 AM | Ibis Hotel Asgardians
Since the early days of mobile that we keep seeing new frameworks being designed to overcome one of the biggest challenges:
* How can I develop for both Android and iOS?
Although it's initial promises, when we talk about performance, maintainability or even customization we keep discarding these solutions and we always choose native.
Fast forward to the present, and now we have two new languages: Android is Kotlin first and iOS, Swift. And if you put them side by side you can see a lot of similarities between both what will ease switching between one to the other if you have to develop for both platforms.
But what I told that you could just develop in Kotlin and run it seamlessly on all devices?
Here comes Kotlin Multiplatform!