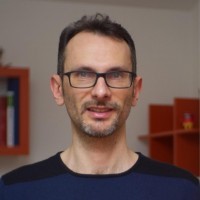 BIO
Fabio Collini is a Google Developer Expert for Android and Kotlin. He started Android development in 2009, first as a freelance with two apps on Play Store and then as a developer for some companies and startups. Now he works as a remote engineer in the Android team at the New York Times. He is one of the authors of the second edition of Android Programmazione Avanzata, an Italian book dedicated to some advanced aspects of Android development.
He is a co-owner and writer for the Italian blog CodingJam and he publishes articles about Android and Kotlin on his medium profile.
Using Dagger in a Clean Architecture project
Wed 25 Sept | 6:00 PM – 7:00 PM | Ibis Hotel Asgardians
Clean Architecture and app modularization are often used together to achieve a better code structure and a faster build time. But how can we use Dagger in an app structured in that way? Can we use subcomponents (with or without Dagger Android) or are component dependencies enough?
In this talk we'll see how to leverage Dagger to organize the dependencies in a multi-module project with particular attention to testing and decoupling. The examples will be both in a standard layered architecture and in a Clean Architecture where the Dependency Inversion increases the overall structure but can complicate the Dagger code.