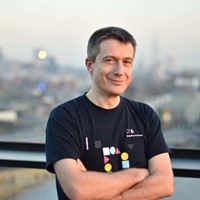 Android Developer Advocate
BIO
In the Android Developer Relations team Pietro's focus is to provide an awesome developer experience around Play technologies like Android Vitals and Android App Bundles.
Play Core library: Take control of Android App Bundles' dynamic delivery
Tue 24 Sept | 9:30 AM – 10:30 AM | Ibis Hotel Asgardians
When you use Android App Bundles (AAB), you get an initial size saving through splitting your application by: screen density, language and ABI.
But that's just the beginning!
With AAB as your distribution format, you can use the Play Core library to make your app smaller, on-demand and always up-to-date
In this talk you will learn about AAB, dynamic delivery and the features that the Play Core library enables in your applications. It will cover:
* Why and how to start using AAB and dynamic delivery
What is the Play Core library and how it interacts with dynamic delivery
* On-demand delivery of additional modules and language resources
* In app updates, covering blocking and non-blocking flows with some bonus UX considerations
We'll finish by looking at how you can use the new Internal App Sharing to distribute your test builds.